I have seen so many flower arrangements! So far, almost all the real flowers I have seen are in the temples or shrines as offerings. Most flowers I've seen in homes have been fake.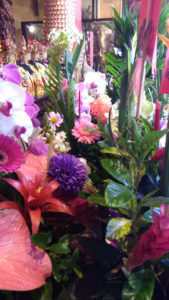 flower I grow/can grow:
Chrysanthemums (spider, spoon, spray)
Dianthus
Lilies
Sunflowers
Gerbera Daisy
Lisianthus (purple at the temples! White at district anniversary)
Solidago
Aster
Eucalyptus
Hydrangeas
Tuberose (blossoms pulled off, on a plate as an offering)
Gladiolus
Statice
Allium
Flowers I can't grow:
Orchids
Protea
Bird of Paradise
anthurium
One I don't know:
Similar to a bleeding heart. It's yellow and shaped like a butterfly.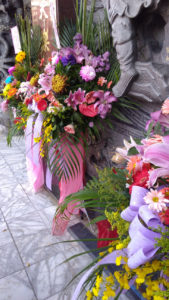 I hope to see more interesting arrangements!
this post was original posted to